The musicians
They play my double basses…
Orchestre National de France
Netherland Metropole Orchestra
Orchestre de Paris
Orchestre National de Lyon
Orchestre National des Pays de Loire
Orchestre de l'Opéra de Lyon
Conservatoire Supérieur de Paris
Conservatoire Supérieur de Lyon
Charlie Haden
Jean Auray is a master luthier. The bass that he made for me has such depth that it feels and sounds like it could be a Vuillaume or a Bernardel yet it has special adaptations that make it possible for me to travel with it. He puts his heart and soul into every instrument he makes.

Thank-you, Jean Auray !
Barre Phillips
Extract of an interview given by Barre Phillips for his CD Journal Violone 9 (Emouvance 1015)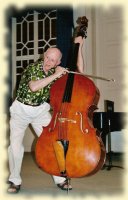 P.B. - And what bass are you playing on this recording?
B.P. - It's a Jean Auray - number 9 - from 1992.
P.B. - Yes, and… ?
B.P. - Well, it's got a great sound - the kind that is perfect for what I do. Both pizz and arco, the sound is always well balanced between the lows and highs. The harmonics pop right out. Everything sounds very clearly. And it speaks quickly, I can play as fast as I'm capable of playing and the instrument likes it. The bass is light in weight but strong in construction : 15 years now of bashing around the world on tour and the top hasn't changed an iota. I'm still using the original bridge and sound post and haven't ever had to readjust anything. The bass is the asymetric model and is very easy to play in the upper register. Great varnish, very soft and supple. It's almost impossible to scratch it and of course with age it just keeps getting more and more beautiful.
P.B. - So, would you say that you're happy with number 9 ?
B.P. - Yes, I'd have to say that !

Barre PHILLIPS was interviewed by Philippe BARRE ;-)
Bruno Chevillon
Music can not be all alone
Music does not emerge alone
Music can not be learnt alone
Music does not live alone
Music is not distilled alone
Music can not vibrate alone
Music is not played alone
Music is not created alone

Thank you Jean, for being there through your bass, in my hand, in all these moments…
Renaud Garcia-Fons
(Photo © Mark Wohlrab)
When I met Jean Auray fifteen years ago for the first time, it was for a simple repair job, yet at once I felt in him a sense of mission, of curiosity and true ambition in the noblest sense of that term. This ambition was to create instruments truly made for musicians – designed for them to play and not merely beautiful instruments glorifying all his talents as a luthier. That is why, a little later, it became obvious to me that I should put my faith in him and order a double bass of a new design which allowed for a fifth string – a string in C sharp. After some months, and few exchanges of ideas, I received a double bass beyond all my expectations – my companion for the past twelve years of musical adventure.

Jean Auray is not in my view a luthier in the ordinary sense of the word. He is a visionary of the double-bass whose art is nourished by contact with musicians of every kind without prejudice or preconceived ideas. His art is hugely pragmatic and he knows how to use it to serve music and musicians thus becoming in some measure the architect of their dreams. He listens to them play, hears them talk and then he begins to create, all the time aware of them. Each instrument is built as a sort of inner accomplishment. Each instrument thus becomes an extension of the same quest for what is right, for truth, leading him with humility to ever greater flexibility, inventiveness and daring – and finally to enrich this world of ours with fabulous means of communication.
Claude Tchamitchian
(Photo © Guillaume PIERRAT)
I am lucky to have known Jean Auray for almost twenty years. Little by little, we established a relationship which went far beyond mere professional contact. Our meetings and talks took us beyond music and instrument making and became more and more important and essential to me.

One day the decision was taken to order a bass. Since, this instrument has become indispensable to me, the very reflection of our relationship. It has freed me, allowing me to express things I had never been able to say before : it has mellowed me in bringing me a wonderful sound and an amazing ease of play. It has enchanted me ever since by its craftsmanship which I have never ceased to admire.

Above all it has brought me happiness which I hope to share with all those I come across. Jean is more than a luthier. He is a man who knows how to listen and how to act upon it.

I am definitely lucky…
Henri Texier
As far as I remember, the first Jean Auray double bass I saw was Barre Phillips'. A golden yellow… I then thought how wonderful it would be to imagine a new and original style of instrument with a luthier and to have it built.

At the time, I had two beautiful Xavier Jacquet basses. I was not a collector and I did not have the means to treat myself to a third instrument. And then I was fascinated by old instruments and I could not envisage parting with one of them to commission a new bass from Jean.

I have always known that Jean Auray was a great luthier and over the years, whenever I met my friends Phillips, Chevillon, Tchamitchian or Garcia-Fons I would try their instruments, admire their craftsmanship, the quality of the wood and the varnish, their proportions and fine sound. Everything about them! And each time, the temptation grew upon me. And one day, the inevitable happened!

I was to travel to Sardinia but the airlines categorically refused to take my bass. I had heard that Jean had devised a way of removing the neck for transport… I picked up my phone and after some explanatory conversation, he offered to lend me a small sized bass equipped with his astonishing modification. I accepted with delight and was immediately impressed with the ingenuity of the system. It was simple, practical, functional and above all it did not seem to affect the sound of the bass in any way.

I immediately thought of modifying the least fragile of my Xavier Jacquet basses… But I liked the small size of the bass Jean had lent me. Soon the idea of actually asking him to build me a small bass with a removable neck, a complement to my Xavier Jacquet number one, became so fixed in my mind that I could not get rid of it.

Jean agreed and the idea I had nurtured for so long came about. After that, the whole thing became a wonderful mixture of feelings, emotions, laughs, smiles, an instinctive understanding between us… and all of it emphasised by the minute attention Jean would lavish on the smallest detail. And so here it is now, deep red in a colour which words can not describe, the colour I had in mind and which Jean foresaw. Now it is in my hands and I have the impression it has been there forever!
Diana Gannett
I first fell in love with Jean Auray's basses when I met him at the Scottish Bass Trust Convention in 1998 and got to play Barre Phillip's Auray Bass.

Jean's meticulous, artistic craftmanship and unique construction ideas combined to make a powerful and beautiful sounding bass.

I ordered my first bass and loved playing it for a couple of years. I thought I was set for life, but did you know that many women shrink as they get older and that their basses don't ? I experienced this first-hand and asked Jean to make me another bass, slightly smaller. Meanwhile my student Evan Premo bought my first Auray bass and has been premiering concertos and making recordings. They are a great combination. My new Auray bass is a delight in every way. I am set for life. Thank you Jean !
Matt Penman
The bass Jean made for me is a beauty. Sonically it's deep and warm and clear – everything I like, and with the removable neck it's changed my traveling life. Jean is really a bass artist. Merci monsieur.
John Goldsby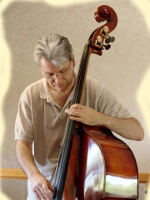 A double bass is the extension of a musician's soul. Throughout my career, I have dreamed of finding a quality instrument that was comfortable to play, had a warm, clear and punchy sound, and was even across all registers. For many years I thought the secret was finding an older instrument, made by a great luthier.

I participated in a bass convention in Paris where I met Jean Auray, a bass maker of the highest standards. I played several of Jean's instruments, one after another, and I realized that I had found a truly great bass maker—a craftsman and artist who has matched and even surpassed many of the legendary bass makers with his work.

All of Jean's basses have a consistently beautiful quality of sound that is rare, especially in newer instruments. My search for an older instrument that would fit my needs was replaced with excitement about having a new bass built to my specifications.

Jean Auray agreed to build a new instrument for me, using my current German instrument as a basis for the construction. I wanted a bass that was as comfortable to play as my main German bass—only better sounding!

Some of the unique innovations that Jean used in constructing my instrument include a very sturdy top, smaller braces in the back of the bass, an asymmetrical bout construction (smaller on the inside bout for ease of playing), and—possibly the most innovative feature—a removable neck. The Auray bass is a concert and recording-quality instrument, yet has the added advantage of being very compact and transportable when the neck is removed.

Since I record constantly with the WDR Big Band, I need a versatile instrument with a focused sound that I can use for a variety of jazz, classical, pop, and modern music styles. My new Auray bass records well, and has a very clear pitch center in all registers. I have used the bass acoustically with a big band and it provides a tangible fundamental tone, plus enough clarity and punch to be heard over horns and drums. I often amplify the bass with a Fishman Full-Circle pickup in the bridge adjuster. The instrument feels at home in all musical genres.

I am thrilled with my bass from Jean Auray. He has taken the sound that I heard in my head, and with much empathy and craftsmanship, built an instrument that perfectly matched my needs and wishes.

Cologne, Germany, December 2009 – www.goldsby.de
Paolo Damiani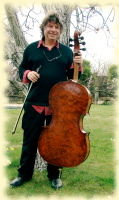 A musician's tale: I asked you to build me a cello, an extraordinary instrument, just like your double basses. You answered: « fine, it will have five strings. » Three years passed and now, here is Blanche, a lady cello. Her pizzicato is superb and played with a bow her voice is deep, clear, round, magnetic!

Thank you my friend. With Blanche came the opportunity to discover new music, amazing sounds and silences, like so many stories to tell. When I hold Blanche in my arms, I am in a dream, travelling towards unknown worlds.

Thank you!

Roma, 2009/03/26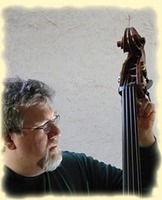 I first met Jean Auray in 2007 after having heard about him, and his great basses for some time. I became interested in his removable neck system, and was very happy to see him demonstrate how it worked on a bass of Renaud Garcia Fons. I was so impressed with the way the system worked that I placed an order for a bass a few months later.  As impressed as I was with his neck system it was the quality of his instruments that really drew me in and made me decide to order one. The beautiful round, even tone, and clarity were what I noticed first. Then I realized how great his instruments felt to play!

When it was finally time for Jean to begin working on my bass he asked me the usual questions about string length, color of the varnish, and the things that one might expect. I also know that Jean was in the process if building MY bass, based on things that we had discussed, and what he had heard when he listened to me play.

As it turned out I went to pick my Auray Bass up right before the beginning of a big tour with my quartet. I got to spend some time with Jean to get to know my bass, and to learn about the removable neck. I learned that not only is Jean a master luthier, and a brilliant engineer, but also a very patient teacher. By the time I started my tour I felt like I could set up the bass virtually anywhere in just a few minutes.  The test for me was in the middle of the tour, having to travel from Holland to Vienna; 13 hours of travel, 2 quick train changes, and arriving in Vienna less than an hour before we were supposed to start playing.  We arrived at the club, and went straight up to the dressing room. I had the bass set up and tuned up in around six minutes. Then we proceeded to have one of the best gigs of the tour. The best part of all this is that now I can have a great bass to play every night without the usual hassles of traveling with a bass.

Thank you Jean Auray for your beautiful instruments, and for your innovative ideas that help us to make the best music possible in all the places where there are people who wish to hear it!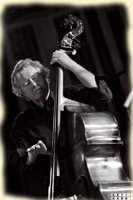 I met Jean Auray the first time at a bass convention in Avignon in 1994. I noticed his great basses and I tried Barre Phillips new Jean Auray bass and remember it as a very beautiful instrument and easy to play.

Since then I thought many times to contact him to buy a bass. But my old German bass from the late 1800 was playing so well .The years went by but in 2009 when I tried Henri Texier´s bass I ordered a bass right away.

However Jean Auray could not have it ready before 2012 . For years he had made basses with a detachable neck and had a very well designed flight case for the detached bass. While waiting for my new bass I asked him to modify my old bass to be detachable.

I must say I was a bit worried and some luthiers I asked about it, advised me not to do it. I did it . With the airlines around 2010 it was almost impossible to travel with a full size bass case.

After transferring to a detachable, I found my old bass sounding better ! It made it reasonable easy to travel with my old bass. I was wondering why the bass sounded better . Jean probably had the soundpost at the very right place , but there was more to it. My theory is by taking down the string pressure when you travel the top of the bass gets a chance to breathe and tensions in the top ease out, like going to a chiropractor. Anyway, the old bass sounded great.

Then in August 2012 at the bass convention in Copenhagen I got my new bass. I always wanted a lion head bass since I saw Richard Davis´ bass back in the 70-ties. I asked Jean if that was possible and he showed up with a fantastic Lion head bass. From visiting Jean and his wife Juliet in Lyon a couple of times I knew he was such a precise and fantastic craftsman. The bass sounded incredible and I played a solo concert on it the day after at the convention.

Now, half a year later I came to Lyon again to do small adjustments on the bass, and if possible the Lion Head bass sounds even better. It is so easy to play and the sound projects like I almost have not heard from a bass before. And it amplifies very good. I use a blending of The Wilson Pickup and The Full Circle Fishman . Just the hospitality and friendliness of Jean and Juliet is worth a visit to Lyon ...even if you do not have a bass to adjust !!

Jean takes his work very seriously and while most luthiers are working only on violins and cellos he is a specialist in the double bass and the double bass for jazz paying, which is very rare around the world. He makes the instruments to project as solo instruments and he listens to the music of the musician that ordered the bass while he is building the bass.

I feel he puts all his soul into each and every instruments and the bass he made for me is just ....Say .... Me.

Oslo February 2013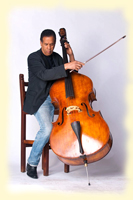 "This bass has truly been a dream come true for me....Throughout much of my history as an acoustic bass player I have played and bought basses that were either hundreds of years old or brand-new kind of off the rack so to speak.... This is the first bass that's been specifically built for me and it's a marvelous instrument. Not only does it look spectacular but it also sounds amazing.

Many years ago I was speaking with Charlie Haden about a new bass and he suggested that I get in contact with Jean Auray of Lyon. France... Jean is a Master bass luthier that I know must've been doing this for many lifetimes before this one because when you look at his work the detail is that of a master but also you get a sense of history .... "Old history" that weaves itself thru all his new innovations. This is what drew me to his work and allows me to say he is one of a kind."

November, 2013