Models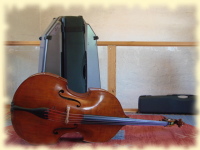 My removable neck system is the result of my determination to preserve the original instrument in all its qualities: aesthetically the bass suffers no visible alterations. Structurally it retains its full sound potential.
I offer the removable neck system on all my master craftsman double basses. Any bass, new or old, can be modified to remove the neck.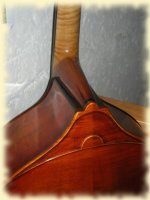 Preserving sound quality was a priority. I had to ensure that the transmission of sound frequency was not jeopardized. And I was concerned that any luthier should be able to work on the instrument once its strings had been removed without fearing that the removable neck should come apart from the body. Without its strings, the instrument must maintain all its rigidity.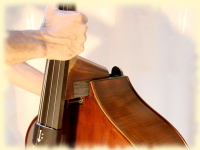 At first sight, there are no visible screws and no apparent mechanical device. I use the traditional mortise and tenon principle to preserve sound frequency transmission to the neck and body via the fingerboard. When the neck is being removed or set into position, an inner mechanical device guides the base of the neck along a very solid axis. When the neck is positioned, it is locked in by a screw hidden from sight under the fingerboard. The screw is tightened with a ratchet wrench. Once it has been locked into position, the neck is just as solid as if it had been glue-jointed. If a double bass with a removable neck system is no longer required by its owner, the neck can be glued-jointed.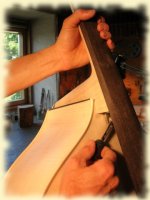 A discreet piece of ebony allows the instrument to stand while the neck is being removed or set into position. The tailpiece is no longer attached to the endpin but to the bottom block close to the table. The strings remain in place on the neck during transport.
The sound post remains adjustable. A simple device ensures that it will not collapse during transport.
Removing the neck and reassembling the bass are simple operations which only take a few minutes. No particular skill is required.
I have designed my own hard flight case to fit basses with a removable neck.
This system allows musicians to go anywhere in the world with a real double bass and its full sound potential without giving up any part of the traditional instrument.