Fly Auray
Nanoo : a flight case to fit…
I offer a high quality flight case of my own design, shock resistant, lightweight and reduced in size to fit basses with a removable neck. It is made of carbon-kevlar which has the best potential to meet these requirements.
The Nanoo flight case is in two parts, a main case for the body and a case for the neck. The two cases lock together into one block or can be used separately.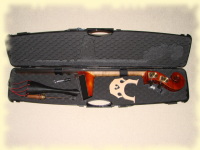 The neck with attached strings is packed in its special case together with the bridge, the tailpiece, the endpin and the ratchet wrench. The body is packed in a cover in the main case. To form one item of baggage, the neck case is fitted into a cavity on the main case and secured in three points.
The outer measurements of the main case
Height 123 cm (48,4 inches)
Width 73 cm (28,7 inches)
Depth 39,5 cm (15,5 inches)
An extra 3 cm (1,2 inches) should be added to the depth when the neck case is fitted onto the main case.
Height + Width + Depth = 235 cm (92,5 inches).
Weight
When empty the main case weighs 12,5 kg and the neck case 2,5 kg.
Packed with an average sized bass in a Mooradian cover, the main case weighs about 22 kg.
Packed with the neck, bridge, tailpiece, endpin and ratchet key the neck case weighs 6,5 kg to 7 kg.
With Nanoo, you can either travel with one item of baggage weighing under 30 kg or two items of 22 kg and 7 kg each.