Fly Auray
A small travel bass with the sound and feel of a big bass
In 2011, an international musician asked me to work on a small, light travel bass with a removable neck system. The bass was to be used acoustically as well as amplified. It had to have the sound and feel of a big bass.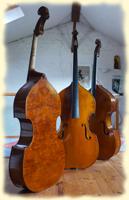 I designed the Fly Auray bass and case. Together they allow musicians to travel with their double bass in an extra light, smaller piece of baggage.
The Fly Auray bass is built with the sound technology which my master basses are known for. I also optimized the dimensions and balanced the shape to obtain a high quality acoustic intstrument. The Fly Auray bass does not rely on amplification.
The length of the body is 106 cm, upper bout 50 cm, lower bout 60 cm. String stop 104 to 105cm.
The removable neck system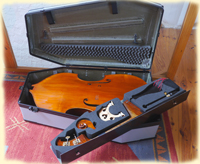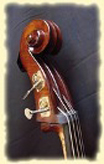 The removable neck system is slightly different from the one I use on my master basses. It remains solid and is even easier to use. It works on a wood to wood principle with the addition of a simple mechanical system which gurantees the rigidity of the neck and is user friendly. The Fly Auray is assembled and ready to play in three minutes.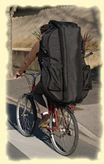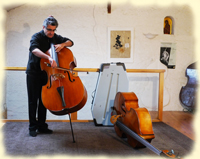 The Fly Auray bass is sold with a light travel cover and a Fly Auray Case.

I also offer a Mooradian cover which is specially designed for the Fly Auray bass. It allows musicians to carry their Fly Auray with the neck off. So why not ride your bike or scooter to your destination with a Fly Auray in a soft cover ?
A Fly Auray bass packed in a Fly Auray Case weighs a total of 20 kg, double bass, cover and case included.