Fly Auray
The Fly Auray Case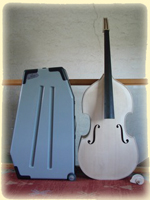 Specially designed to fit the Fly Auray bass, the Fly Auray case, like its big brother the Nanoo, is made of carbon-kevlar.

Smaller and lighter than the Nanoo, it shares its structural qualities: shock resistant and light weight.
Unlike the Nanoo, which is in two parts, the Fly Auray case is designed as one piece of luggage with an inner compartment where the neck and strings, the bridge, the tailpiece and endpin are packed.
---
---
An 800 gr (1.76 lb) travel cover is provided with the Fly Auray bass and case.
The outer measurements of the case

Height 109 cm (42.9 inches). Width at the widest point 62 cm (24.4 inches). Depth 34 cm (13.4 inches).
Height + width + depth = under 200 cm (79 inches).
Weight
A Fly Auray case, inner compartment included,
weighs approximately 11 kg.
A Fly Auray bass packed in a Fly Auray case allows musicians to travel with one piece of baggage weighing no more than 20 kg.