The workshop
Past and Present
Such highly esteemed artisans as Maggini, Amati, Stradivarius had a real feeling for "le bel objet" and beautiful work, bringing to it preciseness and aesthetic qualities even in places hidden from our eyes. Only the artisan himself knew what he had done and why.
But man is constantly on the move and I am wary of certainty - it becomes a prison. The more experience I have of my craft, the more I doubt, and that is what I am interested in, for thanks to this state of doubt, I have the potential to reinvent my craft from day to day as I move ahead.
I like to start anew again and again. It's my way of moving forward, not to get in a rut, a kind of challenge in the face of time...
With the musicians
Being in contact with musicians is my source of inspiration.
I avoid lengthy technical discussions with my clients ; I listen to what they have to say about all sorts of different things and I listen to their music and they sow seeds in my thoughts and in my know-how. Thanks to their trust, these seeds are watered and grow with the new bass.
It is in this way that every bass is different.
The building process
80% of the wood is removed… I spend 350 to 400 hours bringing the instrument to life…
The double basses I have been making for almost twenty years now are totally classical in appearance but have specific principles and features built into them. I apply notions of equilibrium which date back to Leonardo Da Vinci and then Stradivarius : the vibrating surface of the table is the same from bridge to top and from bridge to bottom of the instrument. However, I then position the back to create a non parrallel alignment with the table. This reduces the width of the side on which the musician stands while the opposite side is wider. The inner volume remains unaltered. This is barely noticeable to the eye, but brings the player 3 cm closer to the strings and the end of the fingerboard.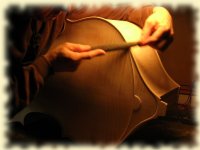 In 1993, I designed a back which gives the double bass both the clear quality of sound of a flat back bass and the warm depth of a traditional round back. My round back is inlaid with two thin pieces of wood, like the bass bars of a guitar, across the width of the instrument. They are inlaid to avoid any possible detachment. A greater thickness of wood is left in the centre to obtain the sound qualities of old instruments.
I alternate bass building and repair work, spending a week on each : it allows the wood to rest and to fit into place after each new operation. Even if the wood I use is very dry, it reacts every time matter is removed. This way of alternating the work contributes to the structural reliability of my double basses.